Aptly named for the temperature at which books burn.

The title gives us the resounding theme of this

classic literature

, making it quite apropos.

Ray Bradbury

builds a future where firemen start fires instead of quelling them. Where presenting a facade of happiness is more important than actually being happy. Where people rush through life encouraged to never look beneath the surface of things around them.

In this dystopian society common cruelty, blind acceptance and general indifference abound throughout the country's populace while those who think a little more grow beyond such actions, yet must worry about persecution in their own right.

The tale centers around a fireman, Guy Montag, who after years of loyalty questions the system. His life is touched in many ways that shake his veneer and remind us, the readers, that life is more than just television, music or running from place to place.


The novel questions what makes friendship, love or dedication.

Most characters are not particularly filled with depth, which works wonderfully for this book, as they all chase to keep up with the most popular topics and avoid personal growth as society dictates. This is not to say that they are not characters in their own right, they act and breathe as one would expect, but never truly change, which as said works perfectly for this novel.

Personally one of my favorite aspects of this novel is how subtly it is touched upon, that no two people get the same thing from a book.

And just like that concept this book itself delivers something a little different to each reader, yet always makes one think.

Author Kelly Wilson

Writer, cyclist, follower of Christ, hand letterer and communicator, collector, connector, creator. Doing at the fulcrum of modernism and purpose to save the world from bad design. German award-winning designer raised in Austria & currently living in London.

Archives

Categories

RSS Feed

Websites we like:
Powered by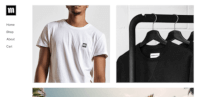 Create your own unique website with customizable templates.