​

This is the first post on our classic literature blog!Welcome, and read about The Road.

It's a desolate world of slate skies and frozen lifeless landscapes that make up the

scenery of Cormac McCarthy's The Road. The amazing thing to me is that McCarthy

can create such an interesting page-turner in such a void of life. An unknown catastrophe

has wiped out nearly the entire civilization. There are few people, other than corpses.

No wild animals. Crops and electricity are nonexistent. Everything is vacant and lifeless

as the father and son walk along a vast and desolate stretch of road in hopeful search for a

remaining community and weather other than frozen winds and ashy sleet.

Resourcefulness of foodstuffs and materials, such as their few remaining bullets and things scavenged like blankets and fuel, is the way the two survive.

Their few possessions fit into the shopping cart that they push along in front of them.

It is fitted with a rearview mirror in case of danger. Everybody is danger. The rules are kill, steal, plunder; do what you have to do to survive. In the dark world of The Road anything goes in the course of self-preservation. At least, this is case in the eyes of the father.

Seemingly every other survivor feels this way too, as death lurks watchfully from every shadow

. The boy, counterbalance to the man, sees things through a compassionate eye, and because of the child the father stays within certain moral laws when it comes to outsiders.

The father would certainly be a much different man without the boy around.

The most important survival tool for the two, of course, is each other. Their quiet love in their dark quest for survival and life is what The Road is really all about. It is also why I burned through this book as quickly as I did.

Find more interesting book reviews here:

https://writtenonthewind.tumblr.com/post/159152851248/classic-english-literature-brideshead-revisited

https://writtenonthewind.tumblr.com/post/159152982068/house-on-mango-street-ages-with-its-readershttps://writtenonthewind.tumblr.com/post/159152805623/books-to-movies-the-other-way-round

Author Kelly Wilson

Writer, cyclist, follower of Christ, hand letterer and communicator, collector, connector, creator. Doing at the fulcrum of modernism and purpose to save the world from bad design. German award-winning designer raised in Austria & currently living in London.

Archives

Categories

RSS Feed

Websites we like:
Powered by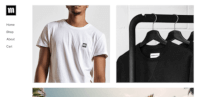 Create your own unique website with customizable templates.