In today's workplace, it has become common for employers to run background checks on all candidates for open positions.

Last week, I joined in a discussion about this topic with a lab tech from our local hospital and a friend of mine. The lab tech was talking about the background checks being conducted on all hospital employees to validate of their education credentials and professional certifications. My friend spoke about the policy at our local church that mandates that background checks are done routinely on anyone working with children in any capacity…even volunteer work.

What does this mean for job seekers?

Here are five tips to pass a background check with flying colors:

1. Make sure all the information you put in your résumé, cover letter and related marketing documents, job applications, and any other public documents, are truthful. Also, to check an information you can use resume editor.

2. Carefully consider what you post in online position applications, LinkedIn, Facebook, or anywhere else online. Be courteous, professional, and…accurate. Recruiters and employers alike will "google" your name to learn what's in your digital footprint. Make sure your online presence is "squeaky clean."

3. Watch the content of your responses when you comment on blogs and forums. Don't post anything that could be considered derogatory against the writer or other commenters that could reflect negatively on you.

4. Offline, keep up-to-date files of all your professional information, including college transcripts, job descriptions, employment performance reviews, endorsements, training courses ("in-house" or "public"), seminars, certifications, media mentions, publications, news articles, press releases, awards, etc. Should any questions ever arise, you'll have your records for proof.

5. In the community, always behave professionally and gracefully to preserve your public reputation. Your community presence is just as important as your online presence. You never know who will mention your name to someone in professional or civic circles, and how they will interpret your actions.

What would you recommend job seekers do to pass the background check? Please share your thoughts so we can all learn from your insights!

​

Author Kelly Wilson

Writer, cyclist, follower of Christ, hand letterer and communicator, collector, connector, creator. Doing at the fulcrum of modernism and purpose to save the world from bad design. German award-winning designer raised in Austria & currently living in London.

Archives

Categories

RSS Feed

Websites we like:
Powered by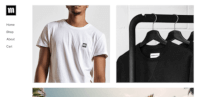 Create your own unique website with customizable templates.