Picture an unpleasant experience you've been through in your life. If you knew while going through it that the unpleasantness was a one time or infrequent event, did that make it much easier to accept and deal with?

Now picture that event happening every month FOR THE NEXT 30 YEARS! How does that make you feel, pretty bad right?Monthly Punishment

Software jobs tips

: they go in cycles with peaks and valleys in the workload as you work through a project. The peak time for our group is always at the end of the month, some month ends are better than others.

This coming cycle looked to be a reasonable one for me up until 2:30 this afternoon when that all changed within a five minute period. First I was informed that a client had just decided they wanted to implement a new feature and wanted it in two days. Shortly after that the on-call pager was dumped on me during the worst possible time, the weekend of month end.

Panicked & Miserable

The thing about events like this is that they happen all the time in the tech industry. In a matter of 5 minutes your life can go from being scheduled and comfortable to panicked and miserable.

The worst thing about it is you have no control over what will happen. If you want to

keep working at your job

, when your boss says that you'll have it done in two days or offers you up to carry the pager over the weekend, that's the way it is. You have to do what they "ask" even though it throws your life into complete disarray.

Quitting Your Job

I don't know about you but I can't stand the thought of going through this madness every month for the duration of a software career. Every time a "crisis" like this pops up and I get thrown under the bus I get one step closer to walking out the door. Luckily, I've been working on becoming financially self-sufficient outside of my job so the time will come when I really will leave and never look back.

What about you? What are you doing to get out of your bad tech job and prevent it from ruining your life one crisis at a time?

Author Kelly Wilson

Writer, cyclist, follower of Christ, hand letterer and communicator, collector, connector, creator. Doing at the fulcrum of modernism and purpose to save the world from bad design. German award-winning designer raised in Austria & currently living in London.

Archives

Categories

RSS Feed

Websites we like:
Powered by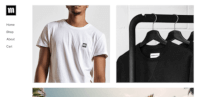 Create your own unique website with customizable templates.